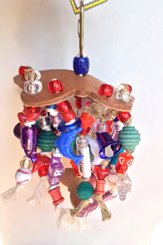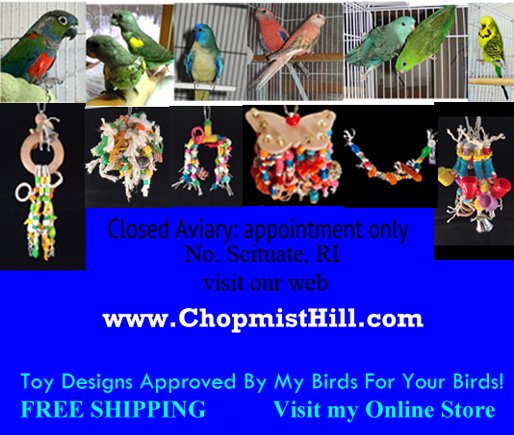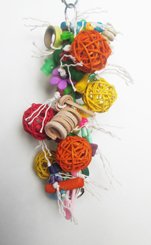 Vacation from August 3 - 5th, 2016...Orders may take a day or 2 longer to ship
How Chopmist Hill Bird Toys Got Started
HAVING BRED, RAISED AND KEPT BIRDS MOST OF MY LIFE, I WANTED TOYS FOR ALL MY BREEDERS AND PETS. I BEGAN MAKING BIRD TOYS WHEN I WAS UNABLE TO FIND QUALITY, AFFORDABLE, SAFE AND UNIQUE BIRD TOYS I KNEW MY BIRDS WOULD LOVE. FIRST, I MADE TOYS FOR MY OWN AVIARY BIRDS....AND MY BIRDS LOVED THEM. THEN, I CREATED AND SOLD SOME TOYS TO FRIENDS AND THEIR FRIENDS...
THEN, IN 2004 CHOPMIST HILL BIRD TOYS [C & D Bird Toys] WAS BORN. ORIGINALLY WE WERE C & D BIRD TOYS AS A PARTNERSHIP AND SOON IT BECAME EXCLUSIVELY CHOPMIST HILL. MY TOYS HAVE BEEN SELLING ON MY ETSY STORE, AT SELECTED PET STORES AND ON LINE THROUGH MY AVIARY WEBSITE [ChopmistHill.com]. PEOPLE TOLD ME THAT THEIR BIRDS REALLY LOVE MY TOYS AND I HAVE A DATABASE FILLED WITH REPEAT CUSTOMERS.

IT IS EXTREMELY IMPORTANT THAT MY TOYS BE WELL MADE, INTERESTING, AFFORDABLE, SAFE AND OFFER MANY TEXTURES WHICH ALL BIRDS WILL LOVE. EACH TOY IS DESIGNED WITH MY OWN BIRDS IN MIND.

MY TOY DESIGNS ARE TESTED BY MY BIRDS FOR YOUR BIRD! APPROVED TOY DESIGNS ARE THEN CREATED IN A SMOKE FREE/BIRD FREE WORKSHOP AND OFFERED TO YOU.
CHOPMIST HILL BIRD TOYS OFFERS TOYS FOR FINCHES TO MACAWS.
YOUR BUSINESS IS VERY IMPORTANT TO ME. COME BACK OFTEN BECAUSE NEW TOYS ARE ADDED WEEKLY IF NOT DAILY...
PLEASE EMAIL ME AND LET ME SEE HOW YOUR BIRD LOVES HIS/HER TOY! [your picture may appear on my website!!!
LET OTHERS KNOW HOW YOU LIKED YOUR TOY!
I REALIZE THERE ARE MANY CHOICES WHEN CHOOSING TOYS FOR YOUR BIRD.

THANK YOU for VISITING MY STORE.
Visit Us Often!