My customers tell me I have the most healthy amazing birds. I must admit I put the health of my birds on the top of my list. I breed only my top quality birds and I feed my own mix of foods I feel are important for optimal life. Among the many things I give my birds, HERB SALAD is a constant since 2003. I have found my birds thrive and my breeding results are excellent, as I am now producing Par Blue and Lutino Splendids. large Exhibition Budgerigars, Pied Parrotlets, Meyers Parrots,and others I have always hoped to produce. My Bourkes are big, dark rose, and fertile breeders in perfect feather. My English Budgies are big, active and producing nice babies. My Conures look amazing and my Finches are extremely bright and alert. While, Herb Salad is not a medication for sick birds, it provides natural ingredients birds would find in the wild that assist in optimal health. Below, are reasons I use and distribute HERB SALAD ...

~ Chopmist Hill Aviary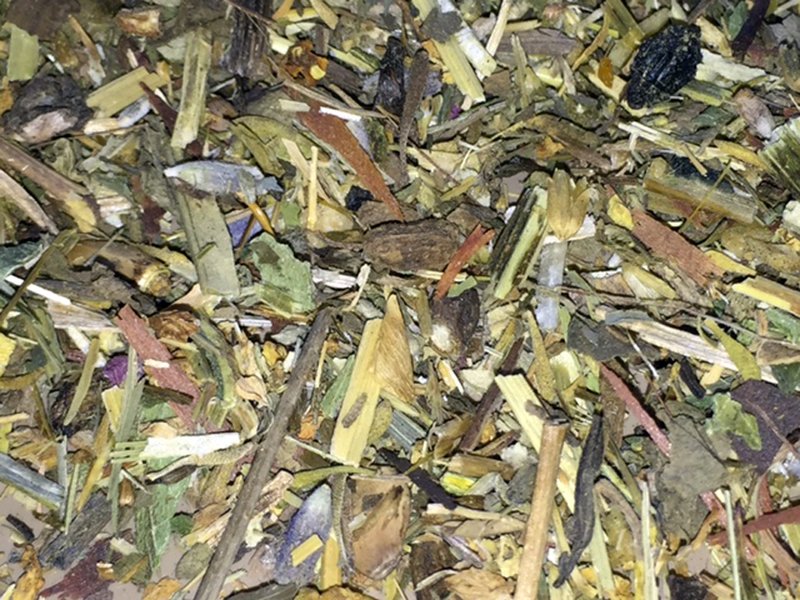 Why Herb Salad ?
What Herb Salad Does

* Boosts Immune system
* Decreases Illness
* Improves Appetite
* Higher Energy Levels
* Relieves Itching &
Scratching
* Increases Fertility
* Improves Beak & Feather
condition

NATURAL AVIAN WELLNESS
* NO Preservatives * NO Insecticides * NO Herbacides * NO Pesticides * 100% Organic

HERB SALAD Ingrediants:

OATSTRAW
calcium, magnesium, yeast infections, thyroid

DANDELION
stomach, vitamins, potassium, calcium, kidneys

PLANTAIN
kidneys, appetite, diarrhea, anti-inflammatory

RED CLOVER
relaxant, antibiotic, inflammations, minerals

MILK THISTLE
liver repair, heart, lungs, circulation, worms

ECHINACEA
antibiotic, antiviral, immunity, vitamins, proteins

PAU D'ARCO
blood cleanser, fights infections, liver, candida

ELDERBERRY
respiratory, anti-inflammatory, blood, appetite

YARROW
blood, liver, virus & fungal inhibitor, tonic

OLIVE LEAF
feather problems, immune support, fights infection

THYME LEAF
antibacterial, kills & expels worms, diarrhea

LAVENDER
digestion, essential oils, stress, metabolism

WHEATGRASS
circulation, amino acids, enzymes, chlorophyll

GARLIC
antifungal, antioxidant, fertility, heart

SPIRULINA
fertility, growth, stress, color, protein

ASTRAGALUS
immune system, digestion, energy, kidneys

BARBERRY
antiseptic, respiratory, blood purifier, liver

CHICKWEED
C, B, D, Anti-inflammatory, stomach, respiratory

KELP
iodine, thyroid, stimulant, mucous membranes

LICORICE
expectorant, liver, anti-inflammatory, flavor

MARSHMELLOW
wounds, calcium, diuretic, demulcent, tonic

WORMWOOD
liver, aids digestion, appetite Stimulant, worms


Herb Salad's 100% Organic ingredients are the leaves, roots, bark and flowers of the plants that animals in the wild seek as a means to obtain required nutrients, minerals, vitamins and healing capabilities. It differs from food and water additives such as vitamins and medications in the manner that it allows your birds to choose what it is they require and in what amount, when and if their diet needs supplementing. Herb Salad's 22 medicinal herbs address common health issues safely and without the dangers that improper medicating and over supplementing can produce.

Should I use Herb Saladtm instead of medications and supplements?

We know that captive birds need additional minerals and vitamins that aren't derived from food intake alone. What to supplement and how often, depends on a number of factors such as the quality of their diet, bird condition, lighting, exercise, etc. We recommend making no changes to your bird's diet initially, rather monitor your birds for any changes. You may determine over time, that less medicating and supplementing is needed.