Chopmist Hill Bird Toys are designed and created exclusively by me and my sisters. Every new design prototype is given to several birds in my aviary to be approved. Only the toys that they like are then created for sale. Each toy is handmade and the quality stands out. Once the toys are assembled the toys are checked by me before being offered for sale.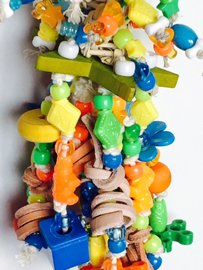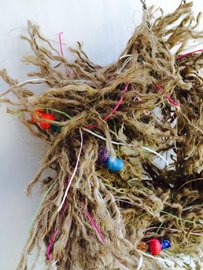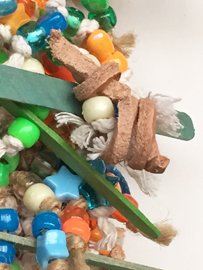 All Chopmist Hill Bird Toys are created with only the objects and materials I know to be safe. Many of our wood parts are hand dyed by my sister Crystal using color that humans eat. Toys are assembled using nickel plated hardware such as chain, links, hooks and bells. We use pear hooks that twist to close. I use this type of hook because I feel it is the best choice and is the safest link for attaching my toys to cages. Be sure to tightly screw the link all the way. Once securely fastened it has no sharp edges or parts where a bird can catch its band, claw or beak in it.
In creating my toys I use many natural parts and bird safe materials. Each toy is assembled as if it was for my own birds. No two toys are exactly alike but the design falls into Chopmist Hill categories. There are items within our toys that are meant to be chewed, shredded and destroyed because birds love to do that. But there are plenty of other things to do within each toy. We offer toys that include foraging opportunities because birds love to explore. Each toy is unique and are exclusively Chopmist Hill Designs. We use many color combinations, but for my own birds I prefer Bright Multicolor. Color combinations create an inviting pretty cage design and there are colors to suit every taste.
Often we create toys for special occasions such as Easter, Christmas, Halloween, Fall, Spring and the Fourth of July. We offer themes such as golf, football, crosses, animals, cars, baseball, and baby.

We have toys that spin, rock, to perch on, to hide in and to fill with your bird's favorite treats.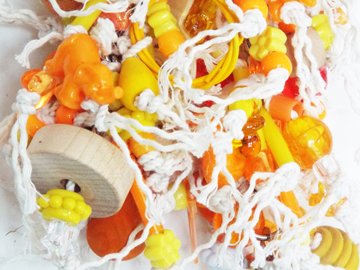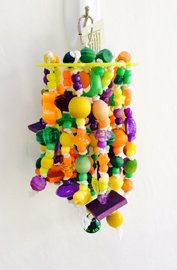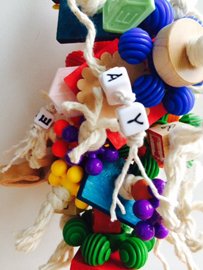 Among the the materials we use are Cotton Ropes, Supreme Cotton Rope that shreds should a bird catch a claw in it, Natural Jute, Natural Hemp, Sisal, Vegetable Tanned Leather, Pine, Coconut, Palm, Fruit Pods, Nickel Plated Hardware, Wicker, Acrylic, Hard Plastic, Coconut Fiber, Paper, Cardboard, Fleece, Wood, and Straws.

Chopmist Hill Bird Toys are also sold at Trade Shows, Bird Marts, Bird Shows, at Selected Pet Stores, on my Etsy Store and online. Free Shipping is something I like when I order something, so I offer it to my customers. I love feedback, so drop me a note and/or photo of your bird enjoying my toy. I may use them on this website. If you have questions, feel free to contact me.
Each toy has bird recommendations included in the description based on my own birds interaction with the design. But you may know your bird best and these are only recommendation. Size is also included.
I know there are many choices out there. My toys offer Quality, Superior Craftsmanship and Variety. Often I will post coupons or specials.
I THANK YOU for visiting my website, but most important "Enjoy Your Toys!"